Posted on 02. Apr, 2012 by Mike Burke in Around the NFL, Eagles Related, NFL Draft
With the addition of DeMeco Ryans, the Eagles may likely hold off drafting a linebacker in the first round. If they do, one option that may be available to them is North Carolina linebacker Zach Brown.
Brown stands at 6-1, 244 pounds and has outstanding speed. At the NFL Combine this year, Brown recorded a 40-yard dash time of 4.50 which ranked second among all linebackers.
He is heavily reliant upon his speed and has the ability to get from sideline to sideline very well. Brown seems to react to the run pretty well and gets to the other side of the field by taking good angles and using his superb quickness.
His speed is also useful when defending the pass. He can run with pretty much any tight end and has also proved to be good in coverage against speedy running backs coming out of the backfield.
There are a number of things that worry me about Brown though. In watching his film, he seems to struggle getting off bigger defenders. Once engaged, he gets swallowed up a lot and essentially gets taken out of the play.
Brown's speed also tends to get him in trouble at times. On stretch plays, he can get to the outside very quickly but tends to be over-aggressive. This is sometimes useful because he can get the runner to cut back into middle field, sealing the outside. However, I think he could be more effective if he showed more control.
I'm also not really high on Brown as a tackler. This is something that is very concerning when speaking about a linebacker. He seems to miss a number of easy tackles and I feel like he lacks the aggressiveness a linebacker should have at times.
Check out this video of Zach Brown against Missouri, via DraftBreakdown.com.
There are many who project Brown as a first round talent, but that's just not something that I see. With that in mind, I wouldn't be surprised to see Brown remaining on the board at the start of the second day.
If the Eagles don't go with a linebacker on the first day, they could possibly look to take one in the second or third round. With the current projections people are giving Brown, it seems like he may very well end up going in the second round. The Eagles have two picks in the second round, but I really wouldn't be thrilled if they used one of these picks on Brown.
He is a talented athlete, but he's just not a player I'm sold on. This isn't to say that I haven't been wrong in the past though.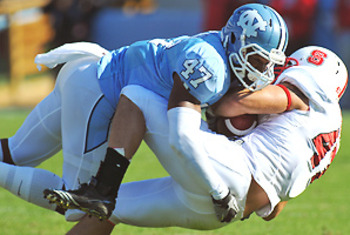 (Photo Credits: BleacherReport, 247sports)