Posted on 10. Apr, 2012 by Mike Burke in Eagles Related, NFL Draft, Video
After adding DeMeco Ryans, the likelihood of the Eagles looking for a linebacker in the first round has diminished. The option can't be completely ruled out, but bringing in Ryans and Andy Reid's track record tend to make you think that way.
With two picks in the second round, this may be a more likely option for the Eagles to bring in an addition to their current group of linebackers. One option they may have is California linebacker Mychal Kendricks.
It seems that early projections for Kendricks were late second to early third round. However, he had an impressive combine which has caused his stock to rise. The athletic linebacker ran a 4.47 second 40-yard dash and was also performed well in the other drills that he participated in.
At 5-11 and 240 pounds, Kendricks isn't the biggest linebacker. Being smaller, he can get swallowed up by blockers when they are able to catch him squarely. However, he also has the ability to use his quickness and speed in order to dodge some of the bulkier lineman.
In the open field, Kendricks is a very sound tackler. He hits with a lot of force, using the way he is built low to the ground to get into the ball carrier.
Most scouts project Kendricks as an inside linebacker in a 3-4 scheme. It seems that if he is taken by a team running a 4-3, he'll likely move to the outside. This would be the case if the Eagles brought him in and wanted him to crack the starting lineup now that Ryans is in the fold.
In terms of pass coverage, Kendricks can keep up with tight ends and running backs with his speed, but he needs to develop better technique. It seems that his athleticism was a big contributor to his success in college. He has a lot of raw talent that will need to be honed when he enters the league.
Check out this video of Kendricks against Stanford, via DraftBreakdown.com.
Kendricks could be an interesting prospect for the Eagles. I like him more than Zach Brown who is currently projected higher. I don't think he has the ability to breakout right away, but I think he can be solid player in the league with some good coaching.
Although the Eagles made a huge improvement when they brought in Ryans, I still think they need to work on improving the position across the board. I think Kendricks could be a good option for the Eagles with their second pick in the second round. His ceiling could be much higher if he commits himself.
I think he has more talent than a number of current linebackers on the Eagles roster and would be a good option in the mid to late second round.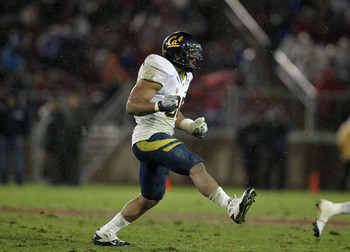 (Photo Credits: MockDraftClub, CalBearsOnline)