Posted on 11. Apr, 2012 by Alec Beckman in Eagles Related, NFL Draft, Video
The Philadelphia Eagles have consistently shown a desire for terrific line play, drafting six linemen with their past seven first round picks.  Out of those six linemen, four of them have been on the defensive side of the ball.  The Eagles clearly value the success that comes along with great lines, but how do you find the right personnel to make the line great?
The Eagles past few defensive line draft picks in the first round have been considered busts, with the exception of starting Defensive Tackle, Mike Patterson, Jerome McDougle (2003), Broderick Bunkley (2006) and still eager to prove himself Brandon Graham (2010), whom the Eagles have made it a point to have a big year this year, or he will be in trouble.
The Eagles have developed their defensive line elsewhere, grabbing high-profile free agents in 2011 such as Jason Babin and Cullen Jenkins, or lucking out with fifth round pick Pro Bowler, Trent Cole.  With this core group of studs, these three combined for 34.5 sacks (14 NFL teams did not even total that number), defensive end is not the biggest need in the world, but for the Super Bowl hungry Eagles, it may not hurt to look upon the success of the reigning champs, the New York Giants.
The Eagles' long time foe, who won the 2008 and 2011 Super Bowl, have put together a massive weapon together in their front four.  Third in the league in sacks, the majority of the pressure comes from their front four, allowing them to leave their linebackers and secondary back in coverage.
So what will it take to achieve this Super Bowl winning pass rush?  More pressure would allow it, so why not go defensive end with the Eagles' first round pick at number 15.  Vinny Curry, out of Marshall, could be an interesting prospect there, at 6-3 and 266 pounds.
Check out this video of Curry against Ohio State, via DraftBreakdown.com.
Curry, being a small school player, has not seen the publicity that players like Melvin Ingram or Quinten Coples have had, but Curry provides fire on the end creating 22 tackles for loss, 11 sacks, and seven forced fumbles. He may be the high energy production guy the Eagles need when Jason Babin or Trent Cole need a break.
Many scouts have praised his high upside, shedding blocks well, and his versatility with size to be a standup, rush linebacker, but with experience as a hand on the ground defensive end, which could allow him to be targeted by 4-3 and 3-4 teams.  His biggest criticism is his athleticism, not being the superior athlete that most are.  He ran a disappointing 4.95 40 time at the combine, but fixed his reputation by running a 4.64 at his pro day.
Drafting Curry would be considered a risk, because not all small school players work out, but as a prospect, his rating should be up there to allow him to be drafted in the first round. So if the Eagles decide he is their guy, they could potentially trade down and garner more picks to get the coveted prospect.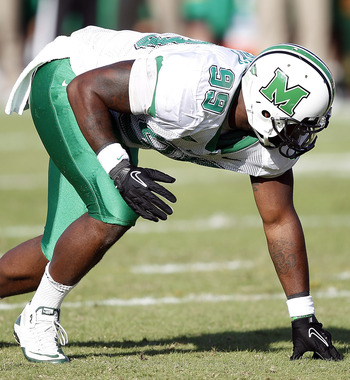 (Photo Credits: BleacherReport, NewEraScouting)