Posted on 25. Apr, 2012 by Mike Burke in Eagles Related, NFL Draft
Not sure who the Eagles are going to draft in the first round? Neither am I. Over the last month or so, we've taken a closer look at some prospects who the Eagles may consider. Most of these are first round type targets, but there are also a number of players on the list who are projected to be taken outside of the first round.
I am extremely excited to see how the draft plays out for the Eagles. There are a ton of possible routes the Eagles could take in the draft and we will find out soon enough.
After trading Asante Samuel, they now have 10 picks which gives them plenty of ammunition to make a variety of moves. Here are the picks they currently own:
Round 1 Pick 15 (15th overall)
Round 2 Pick 14 (46th overall)
Round 2 Pick 19 (51st overall)
Round 3 Pick 25 (88th overall)
Round 4 Pick 19 (114th overall)
Round 5 Pick 18 (153st overall)
Round 6 Pick 2 (172nd overall)
Round 6 Pick 24 (194th overall)
Round 6 Pick 30 (200th overall)
Round 7 Pick 22 (229th overall)
And here are the prospects we've profiled over the last month:
Quarterback
Kirk Cousins, Michigan State
Running Back
Chris Rainey, Florida
LaMichael James, Oregon
Wide Receiver
Michael Floyd, Notre Dame
Joe Adams, Arkansas
Defensive Line
Quinton Coples, North Carolina
Michael Brockers, LSU
Jerel Worthy, Michigan State
Fletcher Cox, Mississippi State
Vinny Curry, Marshall
Dontari Poe, Memphis
Devon Still, Penn State
Brandon Thomspon, Clemson
Linebacker
Luke Kuechly, Boston College
Mychal Kendricks, California
Zach Brown, North Carolina
Lavonte David, Nebraska
Bobby Wagner, Utah State
James-Michael Johnson, Nevada
Secondary
Mark Barron, Alabama
Harrison Smith, Notre Dame
Dre Kirkpatrick, Alabama
Janzen Jackson, McNeese State
Can't wait to see how it all goes down.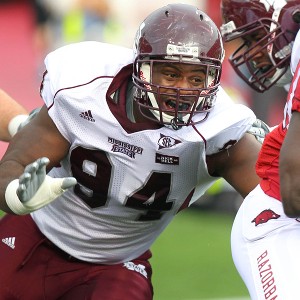 (Photo Credits: ESPN, TheSidelineView)