Posted on 29. Apr, 2012 by Mike Burke in Eagles Related, NFL Draft
There was a lot of anticipation for this year's NFL draft and it came and went in a blink of an eye. Let's take a quick second to reflect on all of the picks:
Rd 1 (12) – Fletcher Cox, DT, Mississippi State
Rd 2 (46) – Mychal Kendricks, LB, California
Rd 2 (59) – Vinny Curry, DE, Marshall
Rd 3 (88) – Nick Foles, QB, Arizona
Rd 4 (123) – Brandon Boykin, CB/KR, Georgia
Rd 5 (153) – Dennis Kelly, OT, Purdue
Rd 6 (194) – Marvin McNutt, WR, Iowa
Rd 6 (200) – Brandon Washington, OG, Miami
Rd 7 (229) – Bryce Brown, RB, Kansas State
It was pretty clear that the Eagles defense needed much more help than the offense entering the draft. The Eagles bolstered the defense by taking defensive players with four of their first five picks.
We'll start from the top with Cox. I don't think there's a ton to say here. There was no secret that he was the guy the Eagles wanted. They ended up needing to move up a few spots to get him, but I don't think there is anything wrong with going to get the guy you want.
The second round was pretty on point in terms of finding talented players at positions that will allow them to see some time immediately. I think Kendricks is the guy with the best probability of being a "starter" from day one.
Take that statement with a grain of salt though. Cox and Curry will definitely be a huge part of the defensive line rotation, but I don't think they'll be the guys with their names announced coming out of the tunnel out of the gate.
The Foles pick is the biggest head scratcher to me. I do want to go back and watch some of his film, but he wasn't a guy I heard a lot of rave reviews about. Not only that, but I don't really get where he fits in. We have a starter, a guy who has been developing in-house, and a veteran who could plug in if necessary.
I think Boykin was a huge steal for the Eagles and should be able to contribute in a number of different ways right away. He's an extremely talented return man and should be able to play on coverage units. I'm not sure if he'll be the slot corner right away, but I think he's definitely the guy they want to be there eventually.
I can't say I know a ton about the final four picks, but I knew nothing about Jason Kelce last year and we all know how that worked out. Kelly's size is intriguing to me and it seems like he had a pretty good career at Purdue. The Big 10 seems to always produce great offensive lineman.
They also added some skill players late in McNutt and Brown. Brown is the really interesting one here. He had an amazing career in high school but could never get his head straight in college. He has a ton of talent but just hasn't had the focus to make it translate. However, the Eagles were able to take a bit of a risk with their final selection in the draft.
Overall, the Eagles pretty much killed it. I'm yet to hear anyone complain about their draft overall. I've heard personalities like Mel Kiper and Tedy Bruschi single the Eagles out as having one of the top drafts in the league.
Having a good draft doesn't mean anything until it places out on the field, but you have to be extremely encouraged about the weekend the Eagles had.
Only time will tell if it was truly a good draft, but I am definitely pleased with what they did.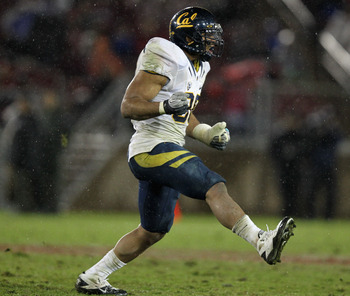 (Photo Credits: TampaBaySportsNetwork, NFLMocks)