Posted on 27. Aug, 2012 by Mike Burke in Eagles Related
One of the biggest problems with last year's "Dream Team" was the inconsistent play at the linebacker position. You can blame it on the personnel, the first year defensive coordinator, or the shortened Training Camp due to the lockout. At the end of the day, there was just no consistency at the position.
Coming into the 2012 season, things seemed to look much better. The DeMeco Ryans acquisition looked like a great move and they used a second round pick to bring in Mychal Kendricks. Before the Eagles even made it to Training Camp, it seemed like a no-brainer that these two would find themselves in the starting lineup.
Sure enough, both will be starters on opening day. However, the confidence level we thought we might have going into the opener isn't where it should be.
Kendricks has had by far the best preseason out of all of the linebackers. He has consistently used his speed and quickness to get off blocks and get to the football. He has blown plays up in the backfield and also moves extremely well from sideline to sideline. There is generally some caution when it comes to starting a rookie, but I'm not very concerned about how Kendricks will perform.
On the other hand, Ryans is a player that I want to see do more. Although he has established himself as a leader on the defense, I want to see him start leading by example more. He needs to get back to the tackling machine he was while he was with the Texans. I'm also concerned about his coverage abilities. He seems to be a step slow right now. This isn't to say that he can't be the player he once was, I just don't think we've seen it yet.
The third linebacker postion, the weakside, is where the real inconsistency lies. No matter who has been there, the level of consistency has been lacking. Now, as we have just one preseason game remaining before the regular season, the Eagles have decided to go with Akeem Jordan over Brian Rolle on the weakside.
Jordan has had a strong preseason, so the move does make sense. Rolle has been good at times as well, but can't seem to find that consistency that the Eagles need. Now it will be up to Jordan to continuously play at a high enough level to remain in the starting lineup.
I think the Eagles have the talent at linebacker now to be much better than last year. However, that group is going to need to play with consistency, something that was really lacking last season.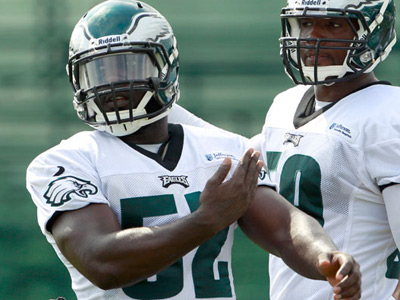 (Photo Credits: Philly.com, GCobb)