Posted on 08. Oct, 2012 by Mike Burke in Eagles Related
Another Eagles game is in the books, and so is another close outcome. However, the Eagles ended up on the wrong side of the scoreboard this game.
For the first time this season, the Eagles came into the game as an underdog. Despite being the dogs, I still felt this was a very winnable game for the Birds.
It's hard to win a football game when you don't protect the football though. The Eagles got away with it a couple times earlier this year, but they couldn't get away with it this week. You can't put the loss completely on Michael Vick, but I think we would have seen a much different outcome if Vick doesn't cough the ball up twice.
Early in the game, the Birds were able to march down the field and get close to pay dirt. This all ended when Vick fumbled at the goal line and gave away surefire points. The momentum shifted at this point and kept the Eagles away from the scoreboard until the third quarter.
This fumble and the other fumble Vick would give up later in the game could have definitely been avoided. Neither play was the result of a hard strip or strong hit. I believe Vick could have easily held onto the ball if he would have simply protected it better.
When asked about the fumbles, Andy Reid said "We've got to make sure we fix that … We've done well with the interception part of it, we're doing a better job with the protection part of it, and the decision-making part of it, [now] we've got to take care of the football."
I agree with Reid. What I don't get is why he's even talking in this way. We're not talking about some rookie quarterback with a handful of starts who is learning from their mistakes. We're talking about a quarterback who has been in this league a long time.
I'm not exactly sure that Vick can just flip a switch and be able to secure the ball better. He's always been high risk, high reward. However, he wants to lead this team to a Super Bowl like he says he does, he needs to start doing a much better job protecting the football.
The Eagles aren't going to be able to win games if he continues to turn the ball over multiple times each game. He needs to be focused on the field and make sure that if he feels pressure or is on the run, that he does everything he can to hold on to that ball. If not, the Eagles are in trouble.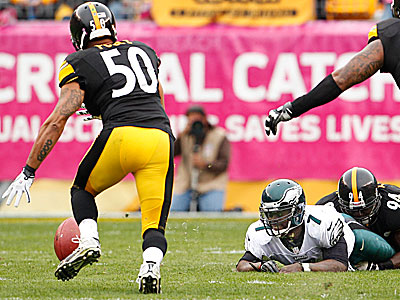 (Photo Credits: Philly.com, USAToday)