Posted on 31. Oct, 2013 by Mike Burke in Eagles Related
Nick Foles will make a return to the starting lineup come Sunday in Oakland, allowing the Eagles to avoid starting their third different quarterback of the season. He will look to redeem himself after a very poor showing against the Cowboys.
After being beat out for the starting job in Training Camp, Foles was able to crack the starting lineup after injuries to quarterback Michael Vick. He looked solid against the Giants before getting his first start of the year against the Bucs. Again, he looked good in that performance but people still had questions about how he'd play against a better opponent. Foles got the opportunity to play against a better opponent when the Eagles hosted the Cowboys with the victor earning an outright lead in the division.
For some reason, Foles fell apart. Leading up to the Cowboys game, Foles was incredibly accurate with the football. His accuracy was so on point that most Eagles fans preferred him as the starter even if Vick was fully healthy. However, Foles was incredibly inaccurate against Dallas, seemingly missing his targets in every way possible. I don't know if we can attribute this to pressure, injury, trying too hard, or just a bad day.
It was a very disappointing showing and we haven't seen Foles since. There are a lot of questions to be answered by Foles. We've seen two different sides of Foles. He's been very good at times and very bad at times. On Sunday, we'll have to see which Foles shows up. Is he as good as he's shown? Is he is bad as he's shown?
The Eagles have been placed in a position to make a run for their division despite having a record that would indicate otherwise. If they want to seriously make a run at the playoffs, they're going to need to start getting wins against these beatable opponents. In order to do that, they're going to need better play from the quarterback position. We'll see if Foles can be that guy.
On top of all that, the Eagles still have questions about who is going to be the guy in 2014 and beyond. Is Foles a legitimate contender or just a solid backup? He'll start answering some of these questions for us on Sunday.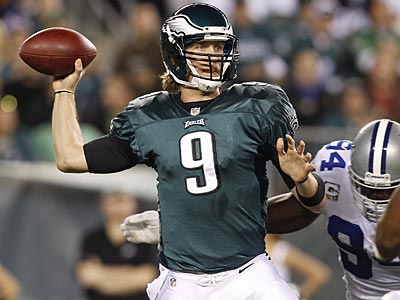 (Photo Credits: Philly.com, Sports Illustrated)