Posted on 03. Dec, 2013 by Mike Burke in Eagles Related
Nick Foles threw 34 passes in Sunday's win against the Cardinals. Over one-third of those passes were intended for either Brent Celek or Zach Ertz. The two tight ends combined for nine receptions for 97 yards and all three Eagles touchdowns.
The combination also contributed to the offense in ways that don't appear on the stat sheet. Both tight ends contributed as blockers as well. Although James Casey didn't record any receptions, he was also used a blocker on offense as well.
There was clearly a mismatch coming into the game and the Eagles were able exploit it early and often. It was a good game plan and the Eagles were able to execute it at a high level. However, it has to make you stop and think about the talent they have at the tight end position.
I wasn't sure how Celek would fit into this offense before the season started. He is more of your traditional tight end who doesn't have the same type of flash we see from some of these newer players at the position. In this high powered offense where athleticism is key, Celek has still been able to produce. He is now third on the team in touchdown receptions and is averaging 13.9 yards per reception, with seven receptions for over 20 yards. Additionally, he's the best blocker of the group.
The guy that everyone has to be excited about is Zach Ertz. I really liked this pick when they made it but Ertz got off to a slow start. He had some dropped balls and it seemed like he wasn't playing with a ton of confidence. Ertz flashed some of his athleticism against the Cardinals and showed everyone that he can be a valuable asset in this offense. I think it was also a good game to help him boost his confidence and hopefully be a more productive player down the stretch.
Casey has clearly been a big disappointment. He fit more of the Ertz mold with his athleticism and everyone believed he'd be a popular weapon in Chip Kelly's offense. It simply hasn't happened. As I mentioned earlier, he wasn't on the stat sheet in the win over the Cardinals but he did add some value while on the field.
When Jeremy Maclin went down before the beginning of the season, there were definitely questions about the production from the wide receiver position. DeSean Jackson has had a great year, but there's been a lot of inconsistency behind him. Riley Cooper has been good at times, but he hasn't been able to produce the way you'd like your number two receiver to produce.
The tight ends took some pressure off the wide receivers on Sunday. This should be something they are able to do week in and week out. Between the variety of abilities they bring to the table and Kelly's play calling ability, the tight ends should continue to be a big threat.
As the Eagles continue to try to make a run towards the playoffs, it'll be interesting to see how the tight ends are leveraged to get there.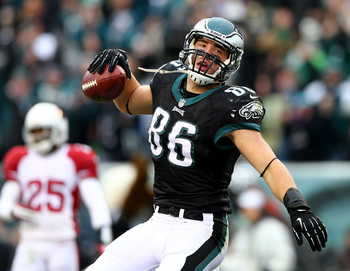 (Photo Credits: Bleacher Report, Sports Mole)