Posted on 24. Dec, 2013 by Mike Burke in Eagles Related
When the Eagles head to Dallas with the division title on the line, they won't be facing Cowboys quarterback Tony Romo. Instead, they will likely face backup Kyle Orton.
The reaction to this announcement has been very interesting. We saw Romo get his knee banged up so if there was anything that was going to keep him out of the game, it looked like it would be his knee. However, it's actually a back injury that has brought his season to an end. So the big question for Eagles fans is whether or not playing a Romoless Cowboys team is a good thing or a bad thing.
Romo has a pretty strong reputation in games that take place in December or January. It's not a positive reputation. Two weeks ago, we saw the classic Romo game where the Cowboys blew a 26-3 halftime lead and lost to the Packers. At the same time, we saw Romo come up clutch last Sunday against the Redskins. With the Cowboys' playoff hopes on the line, Romo delivered a touchdown pass to DeMarco Murray on fourth and goal to beat the Redskins 24-23.
I've talked to Cowboys fans who actually seem to be happy that their team will be without Romo on Sunday. I've also heard a buzz among Eagles fans who think Romo being out is a bad thing. The consensus seems to be that the Eagles could view this as an easy game without him, similar to the situation two weeks ago with Minnesota not having Adrian Peterson.
Personally, I don't think the Eagles will change their perception on this game. I don't think Chip Kelly will allow them to do so. They also have the taste of that Vikings game in their mouth and know that they can't play down any game.
As far as Romo goes, I believe it definitely plays in favor to the Eagles. For the Cowboys, I don't think their offensive game plan will change a lot between Romo and Orton. You have to believe that they will look to feed Murray early and often. He's had a lot of success lately and the Cowboys know they need him to produce for them.
Although I don't think the game plan will be different, there are a lot of things that Romo can do that Orton cannot. Romo has the ability to extend plays and produce from outside the pocket. This creates headaches for opposing defenses. Taking this away from Dallas should be a definite advantage for the Eagles.
With Orton, you also have to look at how long its been since he's played. He has thrown five passes this season and hasn't started a game since 2011. This isn't to say that Orton isn't a talented quarterback, but he just hasn't been able to see the field in a long time.
The stars seemed to have aligned a bit for the Eagles here. However, they need to come out and play their game on Sunday night. Everything is on the line. The whole season comes down to one game. With or without Romo, the Eagles have to come out fired up and dominate from the start.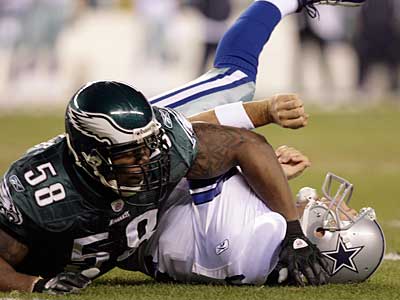 (Photo Credits: Philly.com, Star Telegram)