Posted on 27. Dec, 2013 by Andrew Gross in Eagles Related
With the Christmas spirit surrounding us, I decided to take a look back at some of the presents the Eagles have given us this season which we should be thankful for receiving and some that have made us look forward to 2014. With the Eagles being in position to win the NFC East that almost no one saw coming, there is much more love than hate to spread around. That all could change after Sunday night, however…
The Naughty
Cary Williams
As much as he has helped to solidify one of the starting CB spots in an offseason where the Eagles parted ways with both of their incumbents from 2012, he has made the news more often for his mouth than his play on the field. Admittedly, he is a solid football player, capable of handling the larger, physical receivers that have been thrown the Birds way this season. He is also a solid tackler, which has been a welcome addition to the secondary after the past two seasons. But, he doesn't have the greatest ball hawking instincts and he is capable of gifting the opposing offense 15 yards at any time with a boneheaded personal foul. His propensity for defensive PI is also nothing to strive for. I could handle these faults if he was a player who admitted his mistakes and acted like a professional. But, with his sound bytes making no attempt to hold himself accountable for his actions, he continues to dig a deeper hole for himself with the fans and media in a city where excuses are simply not tolerated.
Jason Avant
I'm surprising myself to be writing Avant's name in this part of the list, as he has been an excellent contributor in his time in Philly, has always done what he is asked, and has never complained or made excuses. He is the consummate professional in every way, and a role model to the younger guys on the squad in how to handle their business day in and day out. But, he just simply hasn't been the same player on the field this season as he has been in recent seasons. Call him the anti-Cary. Obviously, asking a 30 year old to be as good as he was when he was 25 is asinine. But, expecting him to be more like the 29 year old version of himself isn't too much to ask, and it just has not played out that way this season for the Michigan alum. I understand that many of his snaps have been taken away by Zach Ertz in Chip's two TE system. But, when he has been on the field and had the chance to produce, Avant has come up empty more times than usual this season. I'm a big Avant fan and hope he can round into form in the coming weeks, as this offense is much better with him playing well. Sadly, however, I'm not counting on it.
Alex Henery
When the kicker of a team is the third person mentioned in the "bad" category of a column, your team is probably in pretty good shape. But, being a Henery fan since his being drafted out of Nebraska, I have to mention the subpar season he is having. Has he been absolutely horrible? No, he hasn't. Has he been as good as in previous seasons? Nope. And that is where my resentment towards him lies this season. It isn't that Henery has been the cause of 6 losses or 9 wins. A kicker can't have that much influence. But, it is the fact that we know he is better than he has been in 2013. We know he is more accurate. We know he is more consistent. And we know the talent is in there somewhere to provide him the opportunity to be a top kicker in the NFL. In 2013, however, it simply hasn't clicked for Alex in the same way. He has been more consistent of late, and I am hoping that means he has found something to fix his inconsistencies going into the next few weeks. Because a playoff team can't afford to give away 3 points on a 35 yarder.
The Nice
Nick Foles
I didn't want to start with the obvious, but I couldn't come up with a reason as to why Foles shouldn't be mentioned first on this list. He has been marvelous, magnificent, extraordinary, fantastic, superb, and any other superlative you can throw his way. As a Foles hater since his first action last season, this is without a doubt the most unexpected outcome I could have imagined. This is a guy who looked absolutely lost last season. Granted, that was a team who quit on their coach and had nothing to play for. It was also his rookie season. I get all that. But, he just didn't look like a guy who had "it". At all. He was slow. He was sloppy with his footwork. He didn't have the arm strength. He missed open receivers. His final stats weren't all that terrible, with a passer rating in the 80 range for the 2012 season. But, if you watched his games, you could see a QB who seemed awestruck with the moment he was in and didn't seem to have the skills necessary to maneuver his way out of it. But, in 2013, that all changed. Actually, to be more clear, in Tampa Bay 6 weeks into 2013, that all changed. Because he even looked like similar to the 2012 version in the preseason, when Vick outplayed him in every facet of the game to earn the starting gig. But in Tampa, that all changed, and so did the fate of the 2013 Eagles. He has been a complete revelation. Poised. Accurate. Strong. Improved footwork. And even a slight hint of being able to run when he needs to, as evidenced by his 225 yards rushing this season. Nick Foles has won this writer over in almost every respect, and he has proven that I shouldn't apply to be a talent evaluator any time soon. I couldn't be happier to write that previous sentence than I am right now. Let's enjoy the ride and hope it lasts into February.
Shady McCoy
My favorite Eagle, Shady has been an absolute stud all season. For me, he is the best RB in football today (cue the AP love affair comments). He is consistent, versatile, confident, and more agile than any back in the league. His cuts and moves are straight out of Madden, and no one else could pull them off. His ankle-breaking move against the Lions in 6 inches of snow was nothing short of amazing, and something most backs couldn't do in a dome environment. There's not much more that I have to say about the top rusher in the league. I am just happy I am allowed the privilege to watch him every Sunday, and excited for what he will do next.
Chip Kelly
Of course, we have to mention Chip. He is the reason this entire season has even been possible. He has been energetic and upbeat since the start of his tenure. He has never met a microphone he didn't love or a question he couldn't answer. He believed in his guys from day one, when no one would listen and everyone called him crazy. He has proven that his "gimmick" offense has a little bit of staying power in the NFL, which has the Birds second in total yards and total points. All while trumping the conventional wisdom that you need to win time of possession to win football games (Eagles are dead last in the NFL in that category). He is the perfect combination of statistical analysis/sports science and gut feel, knowing when to rely on each throughout the season. He has inflicted his confident and defiant attitude on his players, and they have taken on the personality of their head coach. If he didn't have my heart upon his hiring, he cemented our love affair with a simple exchange with Les Bowen about calling "shitty plays" (if possible, insert link to youtube of this quote). Simply put, if Chip had decided to stay in college, this would be a much, much different team with Gus Bradley at the helm. This season is almost entirely possible because of Chip Kelly, and I couldn't be happier to have him in Eagles green.
DeSean Jackson
As I was talking to Mike recently at the Birds-Bears game Sunday night, it dawned on me just how good of a season DJax is having. With all the Chip hooplah, the play of Foles and Shady, and the lack of headline grabbing quotes, this may be Jackson's "quietest" season ever. But, it is also undeniably his best. A happy 10 is a helluva football player, and he is proving that he is worth every penny Howie signed him to a couple years back. A lot can be attributed to Chip's creative use of DJax, which has opened up holes for him and everyone else throughout the year. But, DeSean has also just gone out and played football, and it shows how beneficial this approach is. He is one of the most unique talents in football, and he is finally harnessing it to become a top player at his position, which has been great to watch in 2013.
Donnie Jones
As Henery has been somewhat of a smudge on the 2013 season, Jones has been one of the biggest and brightest surprises. Not because he wasn't a very good punter previously. He was. It's just not often that a punter could be in the running for MVP of a playoff team. This has been Jones' finest season to date, and may go down as the finest season for a punter in Eagles history when it's all said and done. We all ripped Howie when he was gushing like a schoolgirl over signing Jones in the offseason. A punter? Who gives a shit about a punter? Well, Howie proved those doubters (myself included) wrong. He won't go down as a more important contributor than Foles or Shady in 2013, but it could be argued he was the most important offseason acquisition for the Birds.
Howie Roseman
Definitely not the most popular executive in town going into 2013, Howie has done a whole lot to prove his doubters wrong in 2013. He was tasked with piecing back together a historically bad defense in 2012 who needed to replace both starting CBs, at least one LB, two safeties, and a NT. All the while, he was trying to find players from the scrap heap who would fit the Birds' new 3-4 defensive scheme, as the previous method of paying high-profile FAs was the exact reason they were in this situation in the first place. His offense was mainly intact and considered a very good unit, but they did lack a clear starter at the most important position on the field. And you know the old saying: "if you have two QBs, you have no QB." Not only was he able to find players to fit the scheme on D, he found guys who no one else wanted who would thrive in it. He stood pat with his QB situation instead of making a desperation move. He doesn't get a ton of the credit for this season, but Howie Roseman deserves heaps and heaps of it. If Howie keeps finding diamonds like Donnie Jones, Bradley Fletcher, and Connor Barwin for team-friendly deals, he will vault to the top of the list of favorite executives among the fans and media very quickly. That is a place even he couldn't have envisioned being 12 short months ago.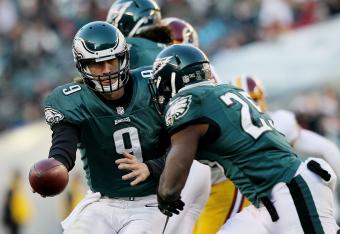 (Photo Credits: Bleacher Report, CBS Local)