Posted on 17. Apr, 2014 by Greg Moyer in Eagles Related
PLACE YOUR BETS! PLACE YOUR BETS!
Per KTAR.com: PHOENIX — Former National Football League quarterback Donovan McNabb has been arrested in Mesa, Ariz., police said.
Looking a little rough around the edges there, Donnie. The early reports do not give a reason for an arrest, just a confirmation of said arrest. This begs us to ask the question, what did Number Five do? Before we get to that, is it a bad thing that this made my day? I really hope it's nothing serious but there's something rewarding in seeing this self-aggrandizing pompous blowhard get his comeuppance.
While we are all here left pondering, while Donavan meets Boggs and the Sisters, I'm here to lay out the prop bets for the likely reasons Mr. Chunky is going to be making great big rocks into little tiny ones.
1. DUI (+250)
This has easily got to be the favorite, yet I'll never understand why. Athletes have the luxury that the vast majority of us do not, more money that we know what to do with. Why more don't have personal drivers is beyond me. Donny is a company man and this is the company man's
2. Domestic Assault (+600)
Ray Rice, Chad Johnson, Tiger Woods… Donovan McNabb.
Bonus (+500): If you took Roxie McNabb with the Win
3. Throwing a brick through a neighbors window (+1000)
Just not possible knowing Donnie the brick would most likely would have bounced a few yards short of the intended window.
4. The Hugh Grant Scenario (+1500)
I'm not writing it out if you have to ask then you can't afford it.
Hopefully everything is alright and Donnie can go back to being an analyst and trying to give RGIII advice he doesn't want. If all else fails just make sure that you watch out for this man Donnie.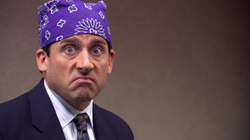 (Photo Credits: Deadspin, Athlete's Wives, Wikipedia)