Posted on 23. Apr, 2014 by Trevor Turner in Eagles Related, NFL Draft
Every well-run company does a yearly inventory check. In this eight-part series, I will break down, position-by-position, where the Eagles stand, how long-term their current situation is and the likelihood of a draft pick being spent on that position.
Next up: The running backs.
The Starter: Shady McCoy is a total stud. 1,607 rushing yards, 52 catches, 11 total TDs, 2,100+ total yards. You could argue that Shady is the best RB in football. In fact, no RB in football came within 268 yards of McCoy's total in 2013. But forget stats, watch Shady for three carries and you can see his ability. Shifty-as-can-be, moves-on-top-of-moves. He's the best player on the team and Philly is lucky to have him. Grade: A+
The Backups: Darren Sproles figures to be a major weapon in Chip Kelly's offense this season. I actually expect him to factor much more in the passing game than on the ground. Sproles had his fewest rushing yards (220) since 2007 last year, and I actually would expect that number to decline even more in 2014. But as a pass-catcher, he's still dynamic. Sproles had 71 catches on 89 targets for over 600 yards. Expect to see a lot of him in the slot this season.
Bryce Brown is probably Shady's true backup RB, but it's clear that his long-term future in Philly will depend on this season. And frankly, he isn't even guaranteed a roster spot. Fumbling issues aside, Brown's YPC fell to 4.2 last year and his contributions as a pass catcher and blocker are next to non-existent. Brown is extremely fast and has great size, but at this point, his lack of versatility has him pigeon-holed into "give Shady a breather" duty. Brown ran the ball about five times per game last season. I would expect that to hold true in 2014, if he wins the job.
But I think Brown's job is up-for-grabs, and there's an outside chance that the Eagles only keep three RBs this year. Chris Polk only got 11 carries last year, but turned them into three TDs, including a heroic 38-yard score in the blizzard against Detroit. It seemed as though the coaching staff has taken more of a liking to Polk than Brown, and I think both players will get an equal shot at the backup spot. The question will be, do they keep four RBs, or is only one of Brown/Polk making this team?
Matthew Tucker is the 5th-string for now. We don't really know much about him. Grade: B+
Long-term viability: At just 25-years old and two years into a lucrative 5-year contract, McCoy should be the starting RB for the foreseeable future. Sproles is on the wrong side of 30 and the other backups are somewhat unproven, but there isn't an immediate need at the position. Grade: A
Draft Likelihood: Chip Kelly loves his playmakers, so don't rule it out, but RB is not an immediate need. Shady is set. Sproles is your wildcard playmaker. I think they could add a late RB to compete with Brown and Polk, although it isn't 100% necessary. My prediction: a 6th rounder gets used on a high-upside, low-ceiling RB. Grade: C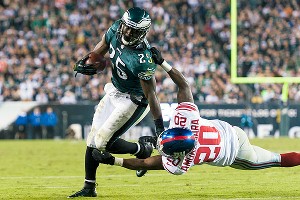 (Photo Credits: ESPN, Pro Football Spot)