Posted on 07. May, 2014 by Trevor Turner in Eagles Related, NFL Draft
Every well-run company does a yearly inventory check. In this eight-part series, I will break down, position-by-position, where the Eagles stand, how long-term their current situation is and the likelihood of a draft pick being spent on that position.
Next up: The Linebackers.
The Starters: And we arrive at perhaps the single most interesting position on the team. With only one starter really entrenched long-term, there is a lot that could move at this spot.
Connor Barwin was an example of a really smart Free Agent signing. The team needed a guy who had experience in the 3-4, who could drop into coverage and who had the ability to rush the passer. At 27-years old, Barwin had a very solid first year in Philly and should be at LOLB for the next few years. Barwin isn't special at any one aspect of the position, but he does everything well, is very consistent and is a high character player. At a position in a bit of flux, the stability of Barwin is necessary. The team is set at LOLB for now.
Opposite Barwin, Trent Cole bounced back with an 8-sack season, but it looks as though Cole may be on his last legs with the Eagles. It's sad to say, considering Cole was arguably the best player on the team at one point. But Cole is now 31, not the best fit in the 3-4 and his production has slipped. Specifically, Cole at this point in career has a tendency to go long stretches of inactivity. In fact, in both of the last two seasons, Cole was held without a sack in 12 different games. He's still a high-character guy, a decent pass-rusher and as strong a fifth-rounder as Philly has ever had, but I'd be amazed if we saw Cole in Midnight Green in 2015. The 3-4 simply needs a guy who can reach double-digit sacks, and I just don't think that is Trent Cole anymore.
On the inside, the Eagles should have their starters set, but the long-term viability is very much up in the air. DeMeco Ryans had a strong year in 2013, plugging the run defense and setting career highs in Sacks, Interceptions and PDs. Ryans also put up 127 tackles, the third best mark of his career. The problem with Ryans is that, although he's just 29 years old, he has aged more quickly that most. Knee injuries will do that to a guy. I still think he's a well-above average starter at ILB, but it's no secret that his coverage ability is not a strength, and that it will only get worse with age. His 2014 season will definitely be one to watch, and the Eagles may already be looking into grooming his replacement.
Mychal Kendricks is perhaps the biggest enigma of the four starters. At times, Kendricks looks like a star, and frankly, he made a lot of big plays in 2013. But his tackling remains a problem, and that's simply not acceptable at ILB. The results should not be that surprising. After all, Kendricks was supposed to be an athletic player with size concerns. But the inconsistency is just maddening at times. Whether it's due to inexperience, technique or simple size, he simply has to become more consistent. In his third year, I think this is a make-or-break season for Kendricks. Grade: B-
The Backups: On the outside, you have Brandon Graham, Bryan Braman, Josh Kaddu and Travis Long.
You wonder what could have been with Graham. I still think he can play in this league, and I think you may see a Derrick Burgess/Jason Babin/Chris Clemons-style mid-career breakout. I just doubt it's with the Eagles. Graham simply does not fit the 3-4. I would not be at all surprised to see a draft-day trade involving the former first-rounder.
Braman was brought in from Houston, but his contribution will mostly be on Special Teams, where he was an ace for the Texans. Kaddu didn't play much in Miami and Long has never played an NFL down.
On the inside, the depth is better. Najee Goode was a pleasant surprise after being signed after training camp from Tampa. He scored the only TD in an ugly game against the Giants before the Eagles hit their stride last year and looked quite serviceable filling in for Ryans and Kendricks when asked to do so. He also contributed fairly heavily on Special Teams. Goode looks to be the top backup at ILB heading into 2014.
Aside from that, I still think Jason Phillips will prove to be a contributor for the Eagles. Phillips tore his ACL before the 2013, but was signed to be a Special Teams ace and a backup with experience in the 3-4. If healthy, he should be contributing on Sundays this year.
Beyond that, Casey Matthews, while not special in any way, could contribute at all four LB spots with his versatility and strong Special Teams play. Jake Knott was a priority UFA who contributed as a rookie and Emmanuel Acho was one of the better stories of last year's preseason. However, none of the five backups is guaranteed a roster spot. Grade: B
Long-term viability: Barwin is the only player I'd put money on being with the team in 2016. The team is lacking a pass rusher, Cole and Ryans are getting older and Kendricks needs to step it up. While the starting group is decent enough, it isn't special. And in the 3-4, the Linebackers need to be special. This is a spot that needs to be upgraded. Grade: C-
Draft Likelihood: The Eagles were rumored to have offered a trade package for Miami's Dion Jordan. Frankly, the team needs a top pass rusher. I would consider it the team's #1 need. Even if Cole isn't supplanted as the starter, there's room to add two or three players to the mix at OLB, and I would be surprised if one of them wasn't a draft pick from the first three rounds. On the inside, the Eagles should have their eyes peeled for Ryans' eventual replacement. Grade: A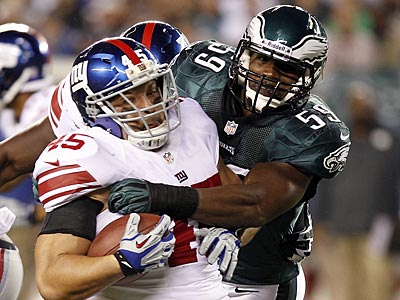 (Photo Credits: Philly.com, NFL Rush)