Posted on 12. May, 2014 by Ryan Hutchison in Eagles Related, NFL Draft
With the 2014 NFL Draft in the books, football fans are undoubtedly excited about the impact their new draft picks, especially the early rounders, will have on the field. Some will undoubtedly start right away and provide a huge upgrade immediately, while others will have to wait on the bench for a season, or maybe several, before they finally get their shot at stardom. The Eagles picked their players this year with an eye towards future seasons, but that doesn't mean that some of them won't make an impact in 2014. The statistics in the predictions are my educated assumption barring any injury to the rookies or anybody above them on the depth charts.
Round 1: Marcus Smith, OLB, Louisville.
Smith was drafted to improve the Eagles' pass rush after having one of the worst defenses against the pass throughout all of 2013. Smith is a big, athletic, raw linebacker with a lot of potential that many fans feel was drafted too high. I think he won't start, since Trent Cole and Connor Barwin have those positions locked down, but Smith will see a lot of playing time in rotation and compete for a starting job once the Eagles lose either Cole or Barwin to free agency in 2015 or 2016. I believe he'll see action in all 16 games, starting none of them but accumulating 35-45 tackles, 10-15 for a loss, and between 6 and 10 sacks, much of which will come in the second half of the season as he builds up momentum for a big 2015.
Round 2: Jordan Matthews, WR, Vanderbilt.
Matthews was my favorite pick of the draft, and I believe he will have the most successful rookie season among all of the Eagles' draft picks. He was obviously picked to fill the hole left by DeSean Jackson, although he is a completely different player than Jackson was. He will be the 3rd receiver on the depth chart behind Jeremy Maclin and Riley Cooper, and he will play primarily in the slot. He is entering one of the most potent offenses in the NFL and he will see a lot of playing time. He'll play all 16 games, starting 7 or 8 (sometimes the team starts in a slot formation and sometimes it doesn't.) He will catch around 70 passes for 850 yards and 7 or 8 touchdowns.
Round 3: Josh Huff, WR, Oregon
The Birds double dipped on receivers on the second day, and Nick Foles is a happy man as a result. Huff will only be the 4th receiver but he will still see some playing time because Chip Kelly likes to spread the ball around. Kelly knows Huff and how ready he is for the NFL more than any other coach, so he'll give him plenty of time on the field but not more than he can handle. Huff may also see time on special teams as well. He'll play in all 16 games, starting none, catch 35-40 passes for around 500 yards and 4 or 5 touchdowns.
Round 4: Jaylen Watkins , CB, Florida
Watkins, who is the brother of 4th overall pick Sammy Watkins, enters the depth chart as the 4th cornerback behind Brandon Boykin, Bradley Fletcher, and Cary Williams. I believe he will leapfrog Roc Carmichael in training camp. He will see a lot of time on special teams and in the dime package. He will play all 16 games, start 0, make 30 tackles and an interception or two. If Williams or Fletcher leaves in free agency in 2015, Boykin will probably be moved to the outside and Watkins will be the top candidate for the permanent slot corner.
Round 5: Taylor Hart, DE, Oregon
The second former Duck to evolve into an Eagle over the weekend was Taylor Hart, a former defensive end that has the size and athleticism that led Kelly to recruit him to Oregon 4 years ago. Like Huff, he knows Hart more than any other coach in the NFL. He has great awareness and instincts for a 5th round pick and he will certainly be among the top backups in 2014, and possibly compete for a starting job in the future if he continues to develop under Kelly. He will play mostly special teams and as a rotational backup in all 16 games, starting 0, gathering 15-20 tackles, 3 sacks, and quite possibly a blocked field goal.
Round 5: Ed Reynolds, S, Stanford
Reynolds is the second defensive back the Eagles drafted, and the third Pac-12 player. He and Nate Allen will likely serve as backups to Earl Wolff and Malcolm Jenkins, and he'll see a lot of play on special teams. Some writers are saying he might not make the team, but as a new draft pick I find that highly unlikely. He'll be strong on special teams, though, and he'll have 20-25 tackles on special teams this season.
Round 7: Beau Allen, NT, Wisconsin
The Eagles add a huge, 330-pound nose tackle with their final pick. Don't let Allen's size fool you, he isn't a two-down player though. As a 7th round pick he'll have to fight for playing time in a crowded interior line that features 2013 starter Cedric Thornton, Cliff Geathers, Damion Square, and fellow rookie Taylor Hart all vying for a spot. How he performs at the line on special teams will be key to making the team.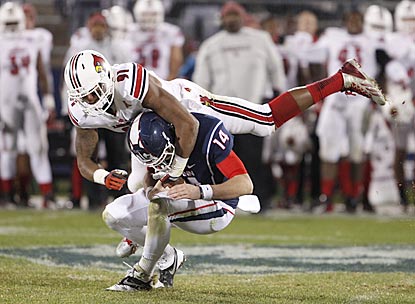 (Photo Credits: Sabotage Football, Philadelphia Eagles)